A WORLD OF LUXURY ACCOMMODATION
Stylish elegance immersed in the sensory beauty of nature, with views of endless blues A feast for the eye… and for the spirit! The beauty of the Mykonian surroundings is celebrated with a modern curvy design and décor. Pure white tones are combined with earthly hues, while spacious layouts, luxurious bathrooms and indulgent bedding tempt to immerse guests into peace and serenity.
Alongside all modern conveniences, guests seeking privacy and relaxation will also most surely enjoy the discreet charm of the rooms with the amazing view of the Aegean blue. Enjoy the sun, sea breeze, and the perfect harmony of the island's nature.
Exclusive facilities and amenities ensure personal comfort at all times. Our staff is prepared to fulfill your needs, with all the kindness and services one would expect from a private resort.
MAKE A RESERVATION
Best Rate Guarantee
OCCUPANCY: 2 PAX
VIEW: SEA VIEW
Created with thoughtful intention, one can attain inner-harmony at the peaceful Deluxe Double Suites. The simple lines and forms of the furn...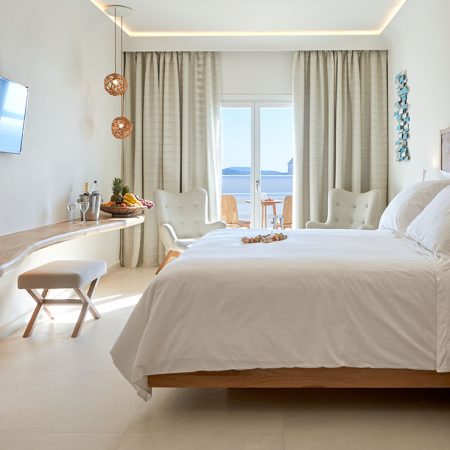 OCCUPANCY: 2 PAX
VIEW: SEA VIEW
Blending elegant touches with chic Mykonian influences, this spectacular suite offers privacy, luxury and exquisitely designed accommodation...
OCCUPANCY: 2 PAX
VIEW: SEA VIEW
Delicate lines of Cycladic architecture, luxurious simplicity and high aesthetics are the main characteristics of the white serenity of the ...
OCCUPANCY: 3 PAX
VIEW: SEA VIEW
Combining spacious accommodation with a soothingly elegant design, these suites are designed with comfort in mind.  The white and earthly h...
OCCUPANCY: 4 PAX
VIEW: SEA VIEW
The design, respectful to the Cycladic architecture, is a natural extension to the landscape, without denying any modern touches. The cordia...
OCCUPANCY: 4 PAX
VIEW: SEA VIEW
Treat and upgrade yourself to the 50 m² Exclusive 2 Bedroom Suite for even more space, as it offers more comfort and a superb view to the ...
OCCUPANCY: 4 PAX
VIEW:
Bathed in natural light and enjoying open, airy and inviting spaces, the Anax Resort Exclusive Maisonettes evoke a sense of living in the mo...